DRS Offers Die Cutting for Print Projects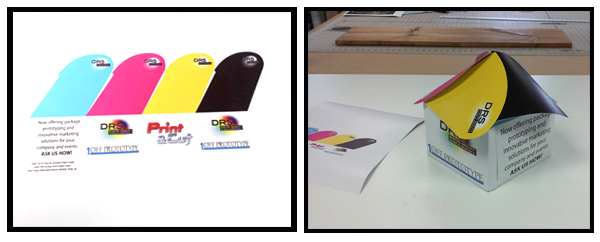 Die cutting for print projects, small and large.
Amazing may be the best description for the latest acquisition at DRS, your local Doylestown large format print and graphics reproduction center. Their newest piece of equipment is capable of taking a variety of materials and making a variety of cutouts and scoring. What this means in plain English is that DRS now has the capability of finishing signs and graphic images with any shape or design you can think of. For example, their new Multicam die cutting machine is based on an industrial router can cut shapes, score materials for folding, or finish edges of a variety of sign materials like wood, plastic, Plexiglas, and even metal – it's die cutting for print projects.

Have you noticed the new full scale graphic signs in the movie lobbies that are self-standing images that are nicely cut-out? That is exactly the kind of sign that the new graphic die cutting router at DRS is capable of producing. The flat bed graphic reproduction printers at DRS were always capable of producing the large life sized images, but now with the new state of the art die cutting capabilities, DRS can precisely cut out images for a more dramatic effect. But that is just a part of the story of the new die cutting routers real capabilities.
The new router gives DRS the capability of handling a variety of print reproduction jobs, including printing all types of custom packaging where scoring for folds and cutouts are needed to make a package or a container. The industrial router is even capable of making custom shapes for aluminum and other metal signs or graphic images. Companies who want to have a sign that is not just square or rectangular, can get whatever shape they desire from DRS utilizing their new die cutting service.
And because it is state of the art, it is managed by computer, so your die cuts will be precise and accurate. This new capability means that DRS capabilities now rival those you would expect to see in New York or California.
Now you can make a full size photo of someone into a self-standing cut-out image just like at the movies? Just bring in a digital photo and DRS can reproduce that image for you and make a life size self-standing image for you. Just think of the many times this capability may come in handy:
Birthday parties for children or adults
Special anniversaries
Special meetings and conferences to honor key individuals
Weddings to show off the bride and groom
Conventions for displays that are more dynamic
Custom metal lawn ornaments
There are so many applications for this new die cutting service, that this list could go on and on. So we will let our customers have a go at coming up with more ways to utilize the new die cutting services now available at DRS.