Laminate Coatings – Not just for protection any longer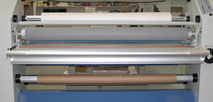 Laminates – Not just for protection any longer
Anyone who creates should know about the new age laminates that are no longer just for protection. Most people probably think of laminate coatings as a way of adding protection to their posters and graphic images. That is the way it used to be. Today, there are a number of laminates that can add visual overlay images to the image they are coating.
For example, you can add a laminate cover that adds a leather-like texture to the image it is covering. For an image with a lot leather pictures in it, a leather textured laminate might be a great choice. It can add a texture that can compel people to want to touch the image. That alone will add a lot of value, because now an advertiser can actually create a poster that will create a buzz and have people talking about the poster.
My favorite new laminate is a prism type image that actually adds a 3 dimensional look to the image. It adds depth to any image. It will compel people to want to reach out and touch the image because it appears to be 3 dimensional. There are a number of new designs for laminates and this is just the beginning. The sky is the limit.
A good place to see what these new laminates look like is at DRS in Doylestown. Let Mark or Mike show you samples of some of the varieties of laminates that are available and learn how they can add texture or a 3 dimensional depth to your next poster that will add the wow factor to your images.