Photography Meets Custom Wall Design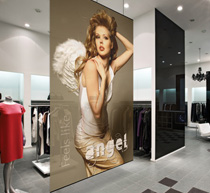 If you can "Picture" it, DRS can print it on your wall, at a cost that is less than you would imagine.
Oh the Possibilities……..
Anything you can photograph can be duplicated into a life size or larger than life image on your wall, partial or full covering.
Your camera can now become your key to making walls come alive with vivid images of your choice that are uniquely you.
Are you a professional photographer? Are you an amateur photographer?
Would you or your clients that likes to have that image, portrait, silhouette, landscapes or cityscape on their wall at home, office or a lobby?  It's not only possible but affordable thanks to DRS.
The digital age is making it possible for companies like DRS (Digital Reprographics Solutions) to pass along significant savings for corporate companies, professionals, interior designers and even an individual for a one time project. Today, DRS can take a digital image and bring it to 'life sized' in just about any way you can imagine. That's right a sign, a poster, a banner, or even a wall covering. DRS specializes in reproducing quality large format images, life sized or even larger.
You might be considered about the permanence of wall paper but don't worry you and your clients have an option: a permanent wall covering (glue) or a removable and re-usable (sticker) wall covering.  Imagine the possibilities… the sky is the limit or perhaps the design.
Stop imagining the possibilities and grab your camera to capture your vision.
At DRS we Ink Big…high quality at a lower cost. Our top of the line, state of the art equipment allows us to pass along significant savings to you our customers.