Full Color Real Estate Signs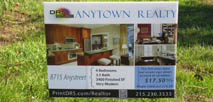 Keeping pace with the latest trends in anything is becoming more and more challenging.  We see the continual impact of the internet, mobile apps and social media which has changed the real estate industry drastically.
Imagine featuring pictures of the interior or back of the home next to your For Sale sign with a full color real estate yard sign.  The novelty of showing off some of the key features of the home to everyone who passes by the property is now easy and affordable to do.
Imagine how this new full color sign can:
Attract other sellers looking for an experienced Realtor to market their home
Boost your business for new listings
Requests for tours or showings
Increased traffic to the MLS Listing and buzz about the property
Imagination is a great thing because, it does spur development.  While full color custom photo real estate signs may sound expensive, they are not.  In today's world of digital image reproduction, it is possible to produce custom outdoor rated yard sale signs, for each listing!  All it takes is a few digital pictures and an email. Your new custom showcase sign can be produced in just two days.
THE SCOOP:
Sound, expensive?
This 2 sided color sign is lss than $20.00, with a 2 day turn around! No setup fee.
Impressed?
DRS, Digital Reprographics Solutions located in the heart of Doylestown PA, offers innovation for your business. Let DRS add Full Color Real Estate Signs to impress your prospective buyers for less than$20 each.
How to order your sign?
That's easy… email us at [email protected] with your image(s) or design layout in a JPEG format of at least 300 dpi. We will draft a proof for approval and we print, right on the coroplast.
Why a DRS Yard Sign?
Because DRS will print your images directly to the sign. That means no paper, no lamination and no mess.
So forget taking this idea to your local copy center and laminating your photo. It won't last. Stop by our Doylestown store to see a sample sign up close!
Questions: For more innovative solutions for large format printing visit DRS at: www.printdrs.com, or callDRS at 215-230-3533.