Cancelled, postponed, or still up in the air… 2020 Graduations, Now What?
G
raduation Yard Signs
For many, graduation is a right of passage it's not a graduation yard sign. It is the culmination of 4 years of hardwork and memories that is then ceremoniously celebrated in a cap and gown with classmates. It's the chance to walk to the stage, receive your diploma, flip your tassel then toss your graduation hat as high as you can in celebration of the end.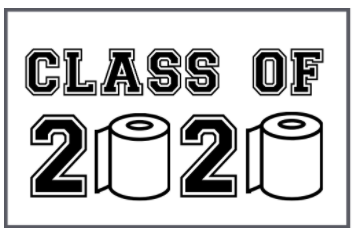 This year our Class of 2020 graduates will have a unique story to tell. The year the world paused, we socially distanced and fought over toilet paper. We are already seeing memes and brands celebrating with the 0s in 2020 as rolls of toilet paper. A clever way to make light of a crappy situation.
When we were in school we were taught…. "You can't control everything or everyone, but you can control your reaction and what you do." Given our times today we want to offer our 2020 Graduates something Instagram-worthy they want to share for 2020.
For many students the graduation party is when you start your nest egg for college or your savings post college. By hosting a parade you can still offer the 'party' but with a 2020 social distancing spin. We explain execution ideas below.
DRS Introduces the 2020 G
raduation Yard Signs
That's right DRS, your local large format printer in Doylestown, can help you turn your lawn into a graduation celebration to remember. From bigheads, to life-size cardboard cutouts to the less expensive, yet just as impactful, sea of full color yard signs. Balloon, lights and driveway chalk optional, but you see where we are going with this… photo and prices below or inspiration.
*This lawn costs around $225
| | | | | |
| --- | --- | --- | --- | --- |
| Item | Promo Price Per Item | Dimensions | Material | File Format to Send to DRS |
| Yard Sign, One Side | $9.95 | 18 inches x 24 inches | Chloroplast | PDF, High Res PNG |
| Big Letters Logo | $60-80+ | 24 inches – 36 inches | Chloroplast | PDF, High Res PNG |
| Big Head | $50+ | 36 inches | Chloroplast | PDF, High Res PNG |
| Handheld Heads | $3.99 | 8 inches x 12 inches | Poster Board | PDF, High Res PNG |
| Full-body cut out | $200+ | Lifesize | Foam Core | PDF, High Res PNG |
*Graduation promotion will run until the end of June
Let DRS create your graduation parade and make this celebration a year to remember. Call today to order and take advantage of this special promo. No contact pickup available, Monday through Friday.