Why Printing White is Important

Is Printing White Possible?
If most printers cannot print the color white, it must not be that important.
Most printers are smart enough to use a white background material in order to get the same visual effect that printing the color white could produce. So as long as the material being printed on is white, the printer can get the vivid colors and contrast that the color white provides.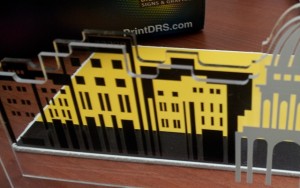 But what would happen if you brought one of these printers a full color project where the background material was not white. What would happen then? What you would get is a picture that would not reflect it's true colors because of both the absence of the color whiter and the influence of the background material on your picture. It would not be a vivid color but a dull color because of the lack of the color white. Plus anything in the picture that was supposed to be white would not be white.
For example, what if you had a project that included a full color picture printed on glass or on a clear sheet of acrylic. Without the ability to print the color white, most printers could not do this job. There is a work-around that includes first printing the full color graphic on a sheet of white self-adhesive vinyl and then pasting it onto the clear glass. That is not the same as a full color picture printed directly onto a clear piece of glass or acrylic.
At DRS in Doylestown, we think it is important for us to be able to direct print every color of the rainbow including the color white. We believe our customers should be free to use any background colors they chose and still have vivid picture quality.